Attention Parents:  Do You Want Your Child To Have Fun Playing The Guitar?
Guitar lessons for kids are the #1 solution to discovering creativity and developing lifelong talents that they will love and enjoy!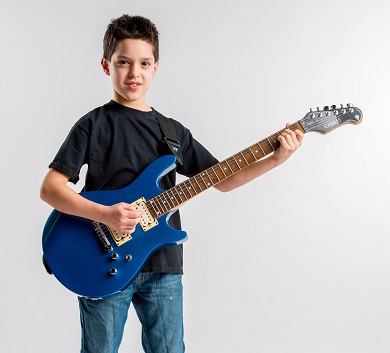 Searching for the best guitar instructors in the area can be tough. We understand you want to avoid the unqualified and only work with the certified and successful teachers who will give your kids the best hands on learning experience and inspiration to learn more on the guitar!
Fortunately, we know exactly how you feel and you are not alone! After years of experience with teaching kids guitar lessons, we know that quality and results are the most important deciding factors for parents when choosing a guitar teacher for their kids.  Rest assured, that we not only supply the greatest results and the best quality guitar lessons in the area, but also we give our kids a flowing surge of creativity and joy so that they can learn AND have fun at the same time!
Many of our student's parents went through months of frustration searching for a qualified guitar teacher who would actually deliver an educational hands-on learning experience for their kids before they found us.
Because most parents are completely lost on where to go to look for the perfect guitar teacher, they initially resort to the internet for guitar lessons, YouTube, outdated books and DVD's created by unqualified so-called "guitar teachers". If you're guilty of attempting one of these methods, it's okay! You're not the first one, but don't worry, you do not have to look any further! With A-Sharp Guitar Instruction, you can be certain that your kids are going to be learning how to play the guitar by the most qualified and certified guitar instructors in the area who use the most up to date curriculum so that learning guitar can be easy and exciting for your child!
Discover Just How Much FUN Your Child Can Experience With Guitar Lessons…All While Expressing Creativity and Developing An Enjoyable Talent!
Imagine feeling confident in knowing that your child is receiving the best hands-on learning experience with certified guitar teachers who have guided hundreds of kids from beginner level to awesome and advanced!
Picture your kids participating in an activity after school that will give them confidence and inspire them to let their creativity flow with guitar lessons!
Give Your Kids The #1 Fun & Step-By-Step Learning Experience With Our Results-Guaranteed Guitar Lessons Taught By Instructors Who Use Easy-To-Learn and Kid-Approved Teaching Methods!
At A Sharp Guitar Instruction, we go above and beyond the usual expectations …you receive so much more than the "normal" part-time, unqualified music teacher.
Here at A Sharp Guitar Instruction we provide you with the most up to date lesson materials, programs and kid-approved curriculum so that your kids will learn quickly AND have a great time doing so!
Most importantly, our guitar instructors here understand that each and every kids learning process is a bit different, and that is why all of our programs are customized to fit each child's learning needs and abilities for the best experience and results possible!
Why does any of this matter? Because ultimately, it means your kids will be receiving the best guitar lessons by instructors who will motivate, inspire and help your kids express creativity through education! This is why A Sharp Guitar Instruction is the #1 music school in your area…we go above and beyond your expectations and give your kids quality education through learning guitar!
Watch Your Kids Develop Great Talent, Creativity And So Much More Through Guitar Lessons!
Develop self-confidence
Discover creativity through hands-on learning
Gain confidence to perform in front of peers
Reveal hidden talent for playing guitar!
Learn self-discipline through following lesson plans and practicing at home
Build and strengthen social skills
Create friendships with other kids who can become practice partners!
Develop great leadership abilities
Hands on learning experience every lesson
Teaching and mentoring from our certified music instructors
Learn how to play your favorite songs
Don't Pass Up The #1 Opportunity For Your Kids To Ignite Their Creativity And Engage In An Essential Learning Experience That Will Reveal A Talent They Will Love And Enjoy!
With choosing A Sharp Guitar Instruction you don't have to worry about quality because we offer our students the best guitar lessons in the area!
We are so incredibly confident that your kids will find guitar lessons with A Sharp Guitar Instruction motivating, inspiring and FUN, that we are offering you a completely FREE introductory session so that we can get to know you, understand the best learning approach and style for your child as well as create a map for what styles and songs your kids want to learn how to play!
Let us help you! Here's what you'll do next!
Simply scroll down to the orange button below and click!
Once you've clicked the button, you will go to the next page where you will answer just a few simple questions such as a little bit about yourself and your child, and what your kids would like to learn on guitar!
CLICK HERE TO TELL US MORE ABOUT YOUR CHILD
P.S. Don't wait any longer than you already have! Enroll your child in guitar lessons today and give your kids the #1 ultimate learning experience all while creating a talent that they will love and enjoy! Click here to get started today!